Who creates a fake ID, no matter if it's just a joke fake ID, that isn't even up to date?
In Canada, you can buy weed online. This constitutes one of the numerous perks Canadians enjoy thanks to the recreational legalization of marijuana. Most of you will read that and have no further questions. What a novel and enviable concept, you will think.
Here's the deal though: online Canadian dispensaries can't just sell cannabis to anyone who clicks the digital button for "One Weed Please, Sir!!" Instead, prior to selling, Canadians must undergo a verification process that corroborates the purchaser is at least 18 years old— the age required to legally consume cannabis — and a Canadian citizen.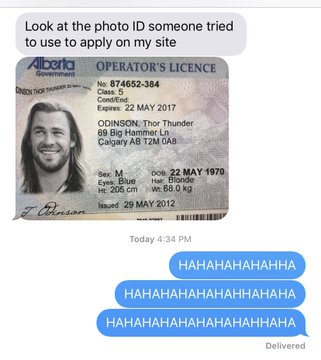 With any system of legitimacy comes those determined to infiltrate that system through nefarious means. Enter this wonderful tweet from @cottoncandaddy. Her sister works at an online weed dispensary and received this ID from none other than Thor Odinson. You know, the popular Marvel character played by Chris Hemsworth in the movies? A totally legitimate human you should sell marijuana to, right?
All the details of this fake ID really tickle the loins. For example, the fact that Thor apparently lives at "69 Big Hammer Ln." An address that won't raise any suspicion obviously. Or the picture of an idyllic Hemsworth smiling sheepishly off-camera or the wavy Windows 98 font (which all Alberta provincial IDs have in real life, by the way) that reads "Odinson Thor."
The best part, though? The ID is totally expired! It's been out of date for more than two years. Who creates a fake ID—no matter if it's just a joke fake ID—that isn't even up to date? Never stop being you, Canadians.
Read more at The Growth Op